About beyondblue
beyondblue is an independent, not-for-profit organisation working to reduce the impact of anxiety and depression and prevent suicide in Australia.
We provide information and support to help everyone achieve their best possible mental health, whatever their age and wherever they live. We work to give everyone in Australia the confidence to speak openly about anxiety, depression and suicide – both to seek support when they need it and to check in with those close to them – and we tackle prejudice and discrimination wherever they exist.
beyondblue's tools, resources and services help to create mentally healthy environments. Through our dedicated programs, we support schools, workplaces and community organisations to protect and promote good mental health.
Our independence and bipartisan approach to issues position us to advocate for positive change, and a better deal for people experiencing anxiety, depression and at risk of suicide. Our research continues to shape our work and that of others, and we collaborate with partners across many sectors and industries to advance our collective thinking, knowledge and direction.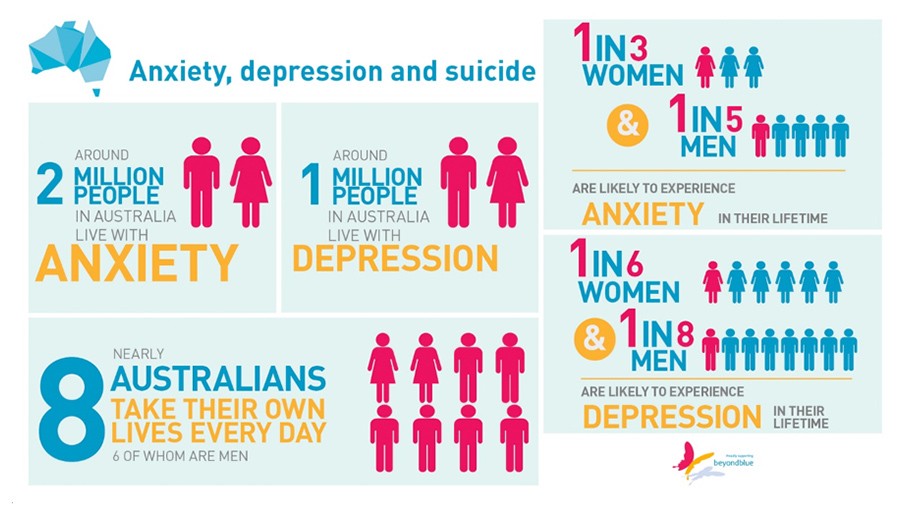 beyondblue's vision
All people in Australia achieve their best possible mental health.
beyondblue's mission
We promote good mental health. We create change to protect everyone's mental health and improve the lives of individuals, families and communities affected by anxiety, depression and suicide.
beyondblue's goals
beyondblue adopts a community heart and business head to achieve our goals:
Goal 1. Reduce the impact of depression, anxiety and suicide by supporting people to protect their mental health and to recover when they are unwell.
Goal 2. Reduce people's experiences of stigma and discrimination.
Goal 3. Improve people's opportunities to get effective support and services at the right time.
Goal 4. Use best business practices to deliver integrated, evidence-based and cost-effective initiatives through our people and resources.
beyondblue's Strategic Plan 2015–2020 and annual reports are available at www.beyondblue.org.au/about-us
Wellbeing
Taking on a physical challenge like Coastrek requires some serious preparation. You need a good training plan, an encouraging support work and an inspiring motivation.
You also need to be fueling your body with the right things. Plenty of veggies with the right amount of protein and carbs can not only make you feel good but also ensure that your muscles and bones are ready for the challenge.
It's no surprise that your mental health plays a part too. Our bodies and minds need to talk to each other, check in with each other, and push each other to complete any physical challenge.
Our charity partner beyondblue has some great tips on staying well. From getting enough sleep, to eating the right things, you can find more information on staying well here and find out how to get involved to support beyondblue's work here.