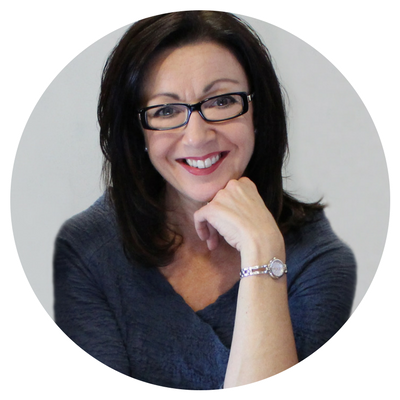 Dianah Mieglich
Dianah is a proud South Australian and an ardent advocate of regional communities. She has more than 30 years of grassroots public and community service.
Dianah takes a special interest in State and Federal politics and has a strong interest in many areas including youth, regional communities and especially mental health.
We are so thrilled to have Dianah on board as our SA Regional Ambassador this year. She is actively committed to SA regional communities and is a fabulous advocate of the mental health benefits Adelaide Coastrek embraces. She has spent time hiking in 'her backyard' and later in the year is taking on the Machu Picchu Trail, Peru with family. In her spare time Dianah retreats to her beach sanctuary along the SA coastline with her family and enjoys photography, fishing and writing about issues that move her.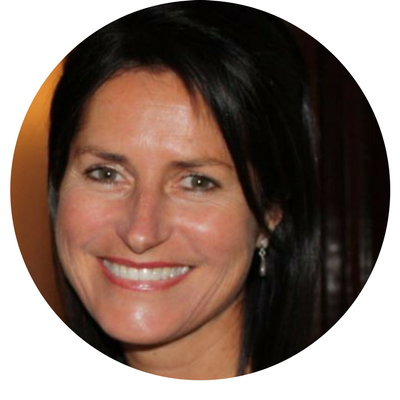 Juliet Haslam OAM
Juliet Haslam OAM has competed in three consecutive Summer Olympics. Juliet was a member of the Australian women's national field hockey team, that won the gold medals at the 1996 and 2000 Summer Olympics. As well as being a dual Olympic Gold Medallist, she won a Commonwealth Games Gold Medal, two World Cup Gold Medals, five Champions Trophy Gold Medals and was named in the Australian Women's 'Team of the Century'. In 1996, she was named the Telstra's Player's Player Award and inducted into Australian Sporting Hall of Fame.
Juliet has also been awarded the Medal of the Order of Australia (OAM) for service to sport as a Gold Medalist at the Atlanta Olympic Games. Also in 1997, she was awarded SASI Female Athlete of the Year.
Juliet fell in love with the natural exhilaration that comes from hiking after a calf injury left her unable to run and play team sports. She quickly realised she needed a lift and discovered that walking in nature with the wind in her hair and the sun on her skin was the best solution.
"After the injury limited my fitness options, I began to explore and found all of these fabulous trails, almost in my own backyard. Only minutes from home I'm able to climb hills, jump creeks and enjoy incredible scenery, all whilst getting a sweat up and having that head clearing time and space that we all so desperately need!"
She hopes to motivate and inspire family, friends and everyone to give hiking a go so that she can share the buzz she gets from wanderlusting with others. "It really is exhilarating and I want others to experience and enjoy it as much as I do. Fitness, fun, fresh air and friendship - what more could you ask for?" said Haslam.
"I love that Adelaide Coastrek is raising funds for beyondblue which is such an amazing cause and can't wait for all of Adelaide to get on board in September."
Millie Walker Master Trainer
Millie Walker B.A., Master Trainer & Coach, Registered Fitness Professional

Millie has been involved in the health and fitness industry since 2003. Running fitness Franchises on beautiful beaches & developing corporate wellbeing programs in Sydney for over 10 years, she developed a lifelong passion for helping others achieve active and healthy lifestyles.
Starting as a trek training Coach with Wild Women on top 12 years ago, she took 17 women trekking in the Andes, and helped establish the first Coastrek in Australia in 2008.
Millie is a 4-time Australian Ironman finisher, has raced 6 x 100km ultra-marathons & last year won the Kangeroo Island Triathlon. She has presented on the Morning show, trained movie stars & taught Yoga in Thailand, but her new passion is Standup-Paddleboarding the Coastline between Adelaide to Victor!
Millie is super excited to be an Ambassador for Adelaide Coastrek and is working with Wild Women on Top to promote the event throughout Adelaide. Millie has also initiated Trek Training in the area for those interested in Coastrek or other hikes.
Sam Lane
Sam Lane is an award winning journalist and author specialising in ARF, Olympics and Cycling. Sam has presented for Channel Seven since 2013 and has covered the Olympic Games and Tour de France three times. Her first book, ROAR, published by Penguin Random House was released in February, 2018.
Sam is delighted to support both beyondblue and Wild Women On Top by taking part in Adelaide Coastrek. Throughout her career she has witnessed firsthand the important role physical activity has in supporting mental wellness and believes taking part in Adelaide Coastrek gives her the perfect opportunity to simultaneously support raising awareness for both.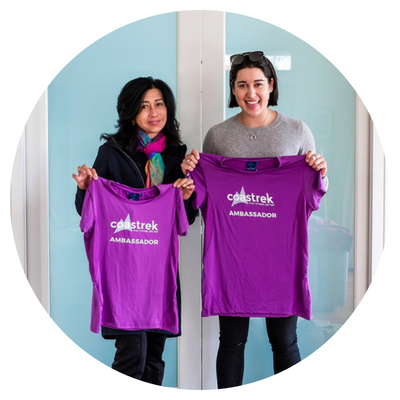 Belle Brockhoff
Belle Brockhoff started skiing at three years old, picked up snowboarding at 10. In 2014 Belle competed for Australia at the Sochi Winter Olympics.
In 2016, Belle took out gold in the World Cup snowboard cross in both Spain and Austria and climbed to number one in the world for her sport.
It was as a teenager that Belle first experienced the signs and symptoms of depression and anxiety.
Belle decided to become a beyondblue Ambassador so she could share her story and hopes to inspire other people to reach out to those who care about them and feel their support around them.
"I want to show that there is hope, that it does get better and there are people with endless amounts of support for people with depression and anxiety. There is happiness beyond the blue."
Belle is taking part in Adelaide Coastrek with her mum Kristine. Kristine shares Belle's love of exercise and the outdoors and believes Adelaide Coastrek provides the perfect combination and opportunity to enjoy time with Belle, to keep fit and to support beyondblue.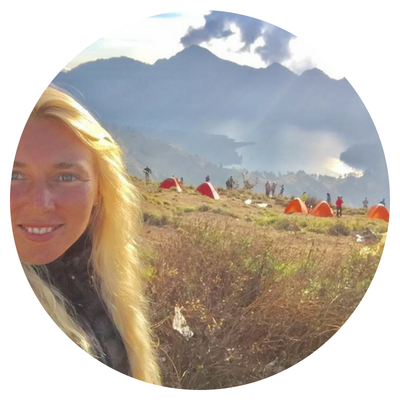 Abbey Freer
ABBEY FREER Community Ambassador Adelaide Coastrek
Abbey completed the 60km Sydney Coastrek earlier this year. She is a curious adventure seeker, sun chaser and yoga loving local girl. Abbey, feels blessed to have found the 'Wild Women on Top' community who, like her, support the invaluable physical, mental and spiritual benefits of being active in the outdoors.
Through her own battles and past experiences, Abbey has developed a life-long vision of helping to bring people into play. Personally she feels that the medium of hiking can be so powerful in doing so, advocating its ability to bring us into the present moment through both tuning into, and adversely out of, those debilitating self- expectations, limits and comparisons which we all seem to fall victim to from time-to-time in our daily lives.
"With connection to nature, I find I gain connection to myself and others. The outdoors is a no-judgment zone and the fresh air never fails to quiet the pace of my mind and helps me to feel relaxed. It's helped me to acknowledge that as human beings the roots of our suffering generally come from within and that for a lot of us, if we let them, our fears, insecurities and unconscious self-judgments can quite easily take ahold. We are all stronger than we give ourselves credit for – the feeling of achieving something that we didn't think we would be capable of is so amazing"
Abbey is extremely excited and enthusiastic about taking part in Adelaide Coastrek.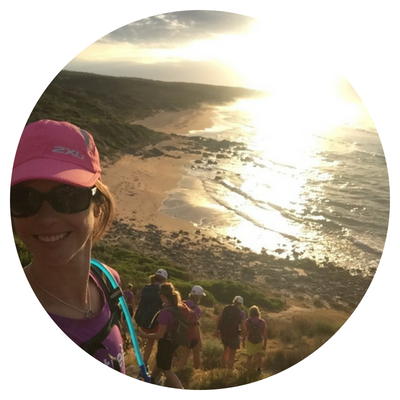 Georgina Mollinson
Like many busy mums my weekly exercise routine tends to be less of a routine and more of a "patchwork" of what ever exercise I can fit in around my little people and work commitments. I learnt very early on that exercise needs to fit into one of two main categories for it to work with my lifestyle. Firstly and most importantly is what I call my "active meditation" time. At least once a week I commit to a run through the local Conservation Park by MYSELF! I find that this is an essential tool in keeping my mind balanced and healthy and it allows me to process and think in an environment that is incredibly calming. The second category is committing to "adaptable exercise". This tends to be child friendly exercise routines, such as trying to get to two mums outdoor bootcamp sessions a week and of course walking or jogging as much as I can with the kids in the buggy. I generally try to do some form of exercise every day, even if it is just waking up 15 minutes early for a couple of stretches in the garden or some quick intervals on the stationary bike while the kids eat their dinner. For me exercising and in particular exercising outdoors, is much more than staying fit and healthy. It has become an integral part of my mental health journey, a therapy that soothes an anxious mind and provides solace and purpose when I am feeling a little lost.